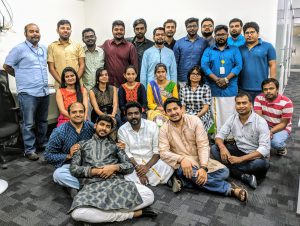 It is that time of the year again where houses are decked with lights, the smell of delectable sweets and savories is in the air, and joy and festive spirit is in the hearts of everyone. Yes, it is Diwali time.
AgilizTech celebrates the victory of hope over despair and good over evil every year with great gusto, and 2018 was no exception. The team had a gala time indulging in festivities on Friday, 02 November.
AgilizTech celebrates Diwali
Hosted by the AgilizTech Fun Committee, Diwali 2018 witnessed the team participating in the festivities by decorating the workplace. A beautiful traditional rangoli was drawn at the foyer, welcoming everyone cheerfully with its bright colors. A special dress code had been announced for the team with prizes for the best dressed.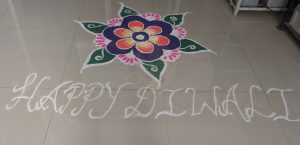 The first event of the day was the team reminiscing their favorite Diwali moments. Mr Ganesh, MD & CEO, spoke about how Diwali meant new clothes, the exciting thiruvizha (village fair), the thrill of bursting crackers and delicious sweets made at home. Other team members also spoke about what Diwali signifies for them and how they celebrated the event with their families over the years.
Dressed to win !
Not just the office, even the employees were decked in their finest traditional attire keeping in line with the dress code, with the competition of the best dressed won by Dinesh and Rajesekaran among the gentlemen and Pooja, Nikitha and Ramyashree amongst the ladies.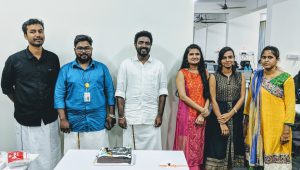 Celebrating with sweets
The event ended with Mr Ganesh distributing sweets among the team, along with exchanging greetings and good wishes.
AgilizTech wishes everyone a very happy and prosperous Diwali!