Aligning the sales activity, accumulating customer data and accelerating growth will be a challenge for any organization. To channelize the sales effort, increase productivity and drive customer satisfaction, Sales Force Automation or SFA plays a key role for an organization.
AgilizTech with its unique combination of innovative digital solutions and agile processes focuses on enriched customer experience delivering best in class are partners for bpm'online in CRM implementation and are happy to share the news of Creatio (formerly bpm'online) being recognized the Leader in 2019 Gartner Magic Quadrant for Sales Force Automation.
According to Ganesh Babu Vasantha Rajan, MD and CEO of AgilizTech; "Hearty congratulations to Creatio (formerly bpm'online) for this recognition. We are proud to partner with bpm'online in implementing their solutions to our customers all over the world. Creatio (formerly bpm'online) enables our customers a flexible and customizable platform that helps in aligning the sales process which ultimately improves sales, enhances growth and customer experience."
SFA software is applicable to all types of business and facilitates increased sales and productivity. Creatio (formerly bpm'online) , a global software company are leaders for business process automation and CRM. They offer innovative technology and products that help a business to accelerate growth with enriched customer experience.
Sales Creatio delivers comprehensive sales processes that manages the entire customer journey. It also offers world class technology the aligns the sales, marketing and customer service. Creatio (formerly bpm'online) services being par excellence, they have been accoladed with various awards and recognition. Adding on to this, is the recent recognition as the Leader in 2019 Gartner Magic Quadrant for Sales Force Automation.
According to Katherine Kostereva, CEO and Managing Partner bpm'online; "At Creatio (formerly bpm'online) we are laser focused on meeting the needs of today's sales organization striving to accelerate their sales growth. We believe we've improved year over year and that our position in this Magic Quadrant is the result of the persistent efforts we make to empower our customers in growing their organizations through automation of their sale processes and activities."
Gartner Magi Quadrant is a series of market research reports conducted on technology industries demonstrating market trends, such as direction, maturity and participants. In 2019, Gartner evaluated 19 vendors based upon their strength and weakness and rated the vendors according to the completeness of vision and ability to execute. The vendors are plotted in the graph in four quadrants: niche players, challengers, visionaries, and leaders.
Below is the figure on how the vendors are placed: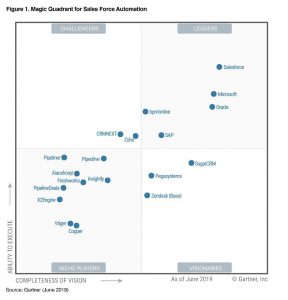 Download the complimentary copy of Gartner's Magic Quadrant for Sales Force Automation to know more.